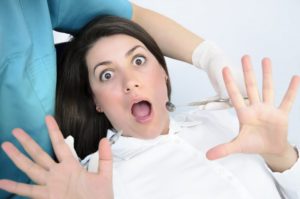 One of the more common fears that people can relate to is that of going to the dentist for any type of procedure. Some are able to overcome their reservations, but there are still others who remain terrified by just the thought of an office visit. Thankfully, your sedation dentist in North Dallas has an effective solution to allow even the most apprehensive patient to be able to reap the benefits of any form of dentistry. Learn more about what are some of the greatest fears of patients and how they can be overcome.
The Most Common Dental Visit Phobias
Here are some of the more common sources of anxiety that make people reluctant to keep their dental visits:
Pain – Many don't maintain their semi-annual dental visits or have restorative procedures done for fear of pain. And this phenomenon is highest among adults over the age of 24, which may be the result of bad memories from their childhood.
Loss of Control – Another reservation that some people have is the loss of control that an oral care visit represents to them. When they're in the dental chair, they are required to be still while the professional works on their mouth. This can become a stressor, causing a sense of helplessness.
Embarrassment – For others, they're embarrassed about the current state of their dental health, that their oral hygiene hasn't been the best and that they've failed to maintain dental visits as recommended.
A Remedy for Dental Anxiety
There is a certain portion of the population that will benefit from the reassuring words from the office staff. For those who are still fearful, the dentist offers sedation treatment. There are a couple of different ways that it can be applied:
Oral Sedation – This option involves an oral anti-anxiety medication that you will take an hour before the procedure. If you take this route, you will need to have someone drive you home after your appointment because the effects will not have worn off yet.
IV Sedation – Another possibility is to inject the sedation medication directly into your veins. The biggest advantage with this method is that it can be adjusted throughout your treatment process to deliver the perfect amount of medication.
The greatest advantage of having options to calm your nerves and phobias is that you don't have to miss out on receiving preventive oral care or a restorative procedure that's vital to your health. If you are afraid to go for a visit, rest assured in knowing that your dentist in North Dallas has the tools necessary to make your time there pleasant.
About the Author
A graduate of the Baylor College of Dentistry, Dr. Dale Greer is a member of the American Academy of General Dentistry and is rated by his peers as "One of the Best Dentists in Dallas." He practices at Dale W. Greer DDS, Inc and can be reached for more information through his website.