Dentures – Dallas, TX
Get a Complete, Beautiful Smile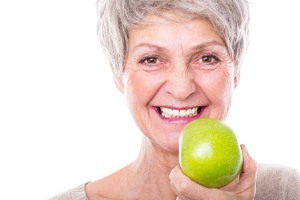 Your teeth are designed to last forever, but that doesn't happen for everyone. Tooth loss is still a prevalent problem, despite the latest innovations in dentistry. If you are missing several or all your teeth, a beautiful smile it's the only thing you have lost. Your confidence and quality of life also took a hit. We can turn back the clock and restore a stunning, functional smile with dentures in Dallas. They have a bad reputation for looking and feeling fake, but they are more realistic than ever using advanced dental technologies and materials. We can give you the smile you deserve with high-quality dental prosthetics.
Who is a Good Candidate for Dentures?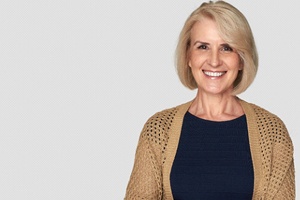 We strive to save every tooth, but there are situations when it's best to have your teeth replaced, such as from severe infection or tooth decay. If several or all your teeth are compromised or missing, you might be a candidate for dentures. You'll require a thorough examination by your dentist in Dallas to assess your smile and learn more about your goals. Dr. Greer will create a personalized treatment plan to rehabilitate your mouth. Depending on your needs, you may need preparatory work, such as tooth extractions or periodontal therapy.
Types of Dentures
You have more options than ever to treat your tooth loss. Our office offers both traditional methods and implant-retained solutions. Dr. Greer will explain which will best fit your needs and preferences, including:
Partial Dentures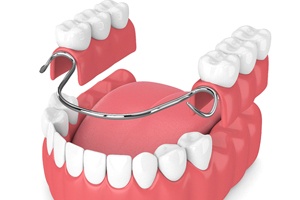 Patients who have a few healthy teeth may be a candidate for a partial denture. Unlike a fixed bridge, it can be used to treat nonconsecutive tooth loss. Prosthetic teeth are carefully crafted to match your natural smile. They are affixed to a gum-colored base that has a metal framework, which allows it to clip or clasp in place to look natural.
Full Dentures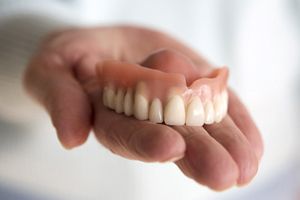 Full dentures have been used for generations to treat complete tooth loss in an arch. Dr. Greer will take an impression of your mouth to craft an acrylic base. It's made of durable, comfortable material while also providing a foundation for your replacement teeth. They are designed to meet your exact specifications to get the smile you want. The denture is held in place using suction or an adhesive.
Implant Dentures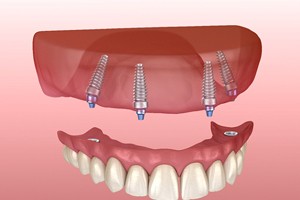 As an alternative to a traditional denture, you might be a candidate for dental implants. 4 to 10 implant posts anchor your denture to your jawbone to enjoy unmatched support and stability. This method replaces the roots of your teeth as well to gain many benefits not possible using a conventional denture. Your new smile can last for decades with the proper care.
The Benefits of Dentures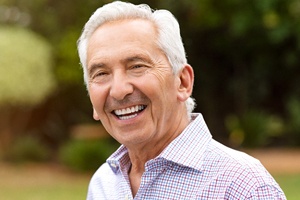 Missing teeth is more than just an aesthetic issue. You can avoid the complications of tooth loss and experience the benefits of dentures, including:
Stop feeling embarrassed by your tooth loss. Contact our office today to rebuild a stunning smile with dentures.
Denture FAQs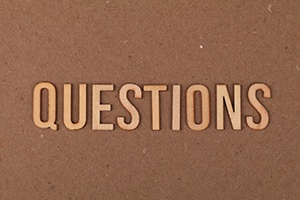 You can conquer the challenges of tooth loss with dentures in Dallas; however, they are a big investment. Dr. Greer will take the time to explain everything during your consultation to feel confident in the decision you are making for your oral health and quality of life. In the meantime, here are the answers to a few frequently asked questions.
Does it hurt to get dentures?
It's not unusual for patients to require tooth extractions before getting dentures. If you need to have a tooth or more removed, you can expect mild discomfort for 3 to 5 days after your extractions. You can take an OTC pain reliever to manage it. After receiving your denture, it can take your mouth a couple of days to adjust to wearing the appliance. You can experience some irritation for a few days; however, every patient differs. If your pain doesn't improve, it's best to call your denture dentist in Dallas, Dr. Greer. He'll ensure your dentures are fitting correctly and there aren't any oral health issues causing the irritation.
Can I sleep with my dentures?
Dr. Greer will instruct you to wear your dentures for 24 hours after receiving them. After the first day, you'll need to get in the habit of taking them out at night. While you don't want to be caught without your teeth, your oral and general health rely on it. Your dentures will restrict blood circulation to your gums, which can lead to sores and irritation if the soft tissues aren't given a break. Removing your teeth before bed allows your gums to get the nutrients they need to recover. Your mouth is also a dark, moist environment. Harmful oral bacteria can get out of control quickly, leading to health and dental problems, like infections. Taking your dentures out allows you to clean your mouth well to keep your smile and body healthy. You'll also reduce unpleasant odors and prolong the lifespan of your new smile. Don't forget to clean your dentures well and place them in an overnight soaking solution before calling it a day.
Can I use regular toothpaste to clean my dentures?
Your dentures will closely look and function like your real teeth; however, they can't be cleaned the same way. Abrasive dental products, like toothpaste, can leave small scratches on their surfaces. Not only can this tarnish their appearance, but bacteria and food particles can get trapped in the small crevices. This can cause unpleasant odors and affect the lifespan of your dentures. Instead, it's best to use a soft-bristled toothbrush and mild hand soap or dishwashing liquid to clean them. There are also store-bought cleaning products designed for denture wearers. When brushing your dentures, don't use hot water to rinse them because it can cause them to warp. Take care when handling them to avoid dropping or damaging the prosthetic. Besides caring for your dentures at home, don't forget to visit your dentist for a cleaning and checkup every 6 months.