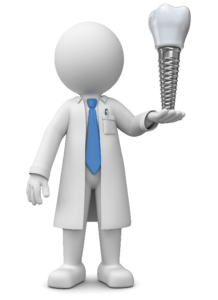 Do you miss eating your favorite foods, like steak, because they have become too difficult to chew? Maybe you are ready to stop feeling insecure about your incomplete smile? No matter the reason, you are now considering to replace your missing teeth with dental implants in North Dallas. Before you are ready to commit to them, you are wondering if they are really worth the added cost? If you want a long-term solution that will improve your oral health and quality of life, they are worth their price.

Is the Price of Dental Implants Worth It?
It is no secret that the cost of dental implants is more than traditional tooth replacement options, like dentures; however, you should not let their price stop you from making the investment. When compared to other dental prosthetics, dental implants offer exceptional benefits that are not possible with other options, such as:
A 95% success rate.
Potential to last for a lifetime.
Closely mimic the appearance and function of natural teeth.
Stability and security.
Preserves bone density in the jaw.
Improves your oral health.
Increases biting force by 70% when compared to dentures.
Overall, dental implants allow you to make a long-term investment that will eventually pay for itself. Unlike traditional tooth replacement options, you will not have to worry about adjustments, expensive cleaning solutions, or needing to have the implant posts replaced periodically.
How Much Will I Pay?
When determining how much your new smile will cost, you will need to visit your dentist in North Dallas for an estimate. The cost of the procedure varies depending on the factors that influence your individualized treatment plan, such as how many teeth are being replaced, if additional procedures are needed, and your dental insurance.
When finding a dentist to treat your tooth loss, you want to receive a low price; however, the rates should not be the determining factor. Cheaper implants are often less successful and can compromise the final results. Instead, when shopping for dental implants, you should consider:
The dentist's experience and qualifications.
Materials used.
Reviews and testimonials.
Location and office hours for flexible appointments.
Payment options.
With the right dentist by your side, you will make a true investment in your quality of life with a solution that looks and feels natural.
Start Your Journey Today
If you are ready to start your journey to a complete smile, take the first step by scheduling a consultation with your dentist. After determining if they are the right solution for you, they will provide you with an estimate and discuss your payment options.
About Dr. Dale Greer
Dr. Dale Greer is a well-respected dentist in the community due to his advanced training and qualifications in an array of dental aspects, including dental implants. With a deep commitment to his patients, he provides the solutions you need to treat tooth loss. If you are ready to see if dental implants are right for you, contact our office today to schedule your consultation with Dr. Greer.