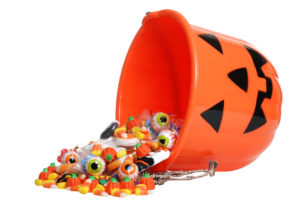 Halloween is full of spooky costumes and scary haunted houses, but the fall holiday can also be a terrifying time for your teeth! Most Halloween candies are loaded with sugar, which can cause tooth decay to develop in your mouth. However, some sweet treats are worse than others for your dental health. Fortunately, a dentist in North Dallas is here with advice on which Halloween candy to avoid if you want to maintain a healthy smile over the haunted holiday!
How Common Halloween Candies "Treat" Your Teeth
You want your Halloween costume to be frightening – not your smile! Here are some of the most common Halloween candies and how they impact your teeth:
Hard Candy – Hard candies stay in your mouth for a long time, which means your teeth are subject to an increased risk for tooth decay from all that sugar.
Sticky and Gummy Candies – Common Halloween candies like taffy and gummy bears cling to your teeth and take longer be washed away by saliva, also increasing the risk that cavities will develop.
Sour Candy – The acidic quality of many sour candies can weaken and damage tooth enamel, leaving teeth more vulnerable to decay.
Popcorn Balls – In addition to being sugary and sticky, this fall favorite always seems guaranteed to leave kernels stuck in-between teeth. Make sure to have some floss handy!
Chocolate – One of the most popular kinds of Halloween candy is also one of the best for your teeth. Because chocolate washes off teeth easier than other types of candy, it presents a reduced risk of tooth decay compared to other treats.
3 Tips for Healthy Teeth During the Halloween Season
You don't have to be scared of cavities this Halloween if you follow these three simple tips:
Skip Snacking – Snacking throughout the day can increase your risk of cavities – especially when your snacks are sugary treats from the candy bowl. Instead, only consume Halloween candy along with meals or right after meals, when increased saliva production will help rinse away food particles and cancel out harmful acids produced by bacteria in your mouth.
Brush and Floss – Of course, maintaining good oral hygiene habits during the Halloween season is critical to keeping your mouth fresh and healthy. Be sure to brush twice a day for a full two minutes each time and floss at least once a day.
"Treat" yourself to a regular dental checkup – Routine dental checkups can help keep your teeth clean and prevent cavities from forming in your mouth. Catching tooth decay early can help prevent more serious dental problems from developing later down the line.
You can have "spook-tacular", cavity-free Halloween this year by knowing which candies to avoid and following these simple oral hygiene tips. Happy trick-or-treating!
About the Author
A native Dallasite, Dr. Dale Greer has delivered quality dental care with a compassionate touch since he graduated from the Baylor College of Dentistry in 1977. His constant pursuit of excellence in patient care and dental treatment has seen him voted by his peers as "One of the Best Dentists in Dallas" in D Magazine. So, don't be spooked! For more tips you can use this Halloween season, get in touch with Dr. Greer via his website or by calling the office phone: 972-233-4546.