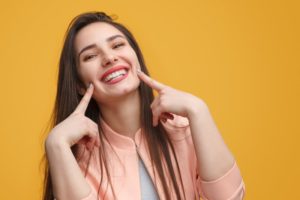 If you're like many Americans, you may be dissatisfied with the appearance of your smile. Many struggle in social settings and during photos because they aren't confident in their smile. Whether you have chips, discoloration, cracks, gaps, and more, these flaws can affect your self-esteem in a negative way. Keep reading to discover how your cosmetic dentist in North Dallas can transform your smile into the grin of your dreams. That way, you can show off your beautiful pearly whites with confidence!
What is Cosmetic Dentistry?
If you're unhappy with the way your smile looks, cosmetic dentistry is right for you. This form of dentistry provides services that beautify and enhance the look of your grin. Check out some of the most popular cosmetic services below and see how they can improve your smile:
Porcelain Veneers
Porcelain veneers are thin shells of dental porcelain that cover the front surfaces of your teeth to conceal a number of flaws. If you have cracks, chips, discoloration, and more, veneers can transform your smile into a perfect set of pearly whites. You can choose the color, size, and shape of your veneers, so you can achieve the exact smile you've always wanted. Plus, dental porcelain is stain-resistant, so it'll be much harder to stain your brand-new smile.
Professional Teeth Whitening
Easily one of the most popular cosmetic services, professional teeth whitening gives patients dramatic results in a short period of time. In just one easy visit to the dentist's office, you can walk away with a smile that is up to 10 shades whiter. This service is especially popular during the holidays because of all the photo opportunities.
Cosmetic Bonding
If you have just a few minor flaws in your smile, you could benefit from cosmetic bonding. Your dentist will use tooth-colored resin to shape, sculpt, and rebuild small chips and imperfections. This is a more affordable procedure compared to other services, and it can be conducted in one simple visit.
Orthodontics
Do you have misaligned or crooked teeth? A crooked smile can give off a poor appearance, but it can also affect your oral health. Thankfully, traditional braces aren't your only option. For adults and older teens, clear aligners are a more aesthetically pleasing option for straightening teeth. These aligners are discreet, and they can shift your teeth into beautiful alignment.
Does it sound like your smile could benefit from any of the services above? Talk to your cosmetic dentist about the imperfections in your grin and how cosmetic dentistry can help you.
Meet the Dentist
Dr. Dale Greer has over 30 years of experience in dentistry, making him an expert in oral healthcare. He enjoys boosting his patients' confidence through improving the appearance of their smiles. He currently runs his own practice, and he can be contacted through his website or by phone at (972) 233-4546 for any questions.