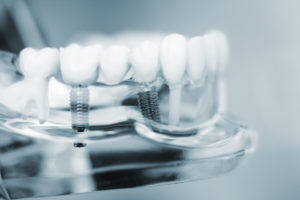 One of the greatest advantages of dental implants in North Dallas is that your dentist can tailor them to meet your specific smile restoration needs. This is just as true for people missing one tooth as those missing multiple teeth. Your dentist will work with you to find the right solution for your situation.
How Single Tooth Restoration Works
The approach is fairly straightforward. Your dentist will embed a small, lightweight titanium fixture beneath your gumline. Over the next few months it will fuse to the surrounding bone through a natural process called osseointegration.
Upon your second visit, the dentist will place a tiny connecting post called an abutment. This will serve as the support for the final restored tooth, which is artfully crafted to match your surrounding natural teeth perfectly. After that, you can show off your restored smile to the world.
Restoring Multiple Teeth at Once
Your dentist in North Dallas may take one of two approaches, depending on the number of teeth that need restoration and their location. For a single multi-tooth gap in your smile, he or she may create a special bridge that's supported by a pair of implants.
Maybe you're missing teeth in different parts of your smile. If so, then your dentist will probably create a partial denture. This method usually uses between two and four implants to support the restoration.
Restoring an Entire Row of Teeth
Sometimes an entire row of teeth are missing. Other times the few remaining teeth are in bad shape and need extraction. In such cases, the best approach is usually to create an implant-supported denture. This involves placing between four and six fixtures in the gumline.
The end result is similar to traditional adhesive dentures, in that the patient can remove the product at will. Unlike traditional dentures however, the product will remain securely in place until the patient chooses to remove it. This provides full restoration of normal activities, something which adhesive dentures cannot offer.
Caring for Your New Implants Is Easy
Dental implants can last from 25 years to a lifetime as long as they receive basic care. Your implant dentist will probably recommend the following steps:
Brushing and flossing any remaining teeth as normal. This is important, not only for the teeth themselves but for overall oral hygiene. Your dentist will probably recommend using a nonabrasive brand of toothpaste and soft bristle toothbrush to avoid scratching the restoration.
Removing and cleaning the restoration daily (in the case of implant-supported dentures). Your dentist will give you directions for performing this important step.
Seeing your dentist for occasional implant-related checkups. Once or twice a year, you should see your implant dentist and allow him or her to inspect the implants, just to make sure that everything looks good.
As you can see, dental implants are a flexible solution to a wide array of tooth loss problems. Make an appointment to see an implant dentist in your area soon. You'll soon be on your way to a restored smile.
About the Author
Dr. Dale W. Greer has been practicing dentistry since earning his DDS degree from Baylor College of Dentistry in 1977. He is a member of the American Dental Association and the Texas Dental Association. Dr. Greer is highly skilled in the placement of dental implants and other smile restoration methods. You can reach his office online or by calling (972) 233-4546.