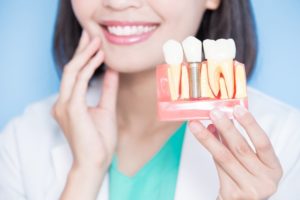 You've been wanting to replace your missing teeth for a while now, so you opt for dental implants. You've heard that they restore your ability to talk and speak normally, and have a beautiful smile to boot. You've heard that once you've recovered from the surgery, implants are typically just like natural teeth. However, on rare occasions, the implant procedure may not work. Let's look at 7 reasons why your dental implants in North Dallas may fail.
How Often Do Dental Implants Fail?
Dental implants typically fail about 5% of the time. However, when you consider just how many people get implants, that number can turn out to be quite high. Failure can be due to several different causes. Let's look at 7 reasons that dental implants can fail.
1. Autoimmune Diseases
If you have an autoimmune disease, your implant is more likely to fail than in individuals without any of those diseases. An autoimmune disease is an illness that causes the body's immune system to attack itself. This increases the body's risk of infection and of rejecting the implant. Some types of autoimmune diseases include:
Celiac disease
Type 1 diabetes
Lupus
Rheumatoid arthritis
2. Poor General Health
If you don't take good care of your teeth and your body in general, you can increase your risk of implant failure. Implants are less likely to integrate with an unhealthy body than with a healthy body.
3. Allergic Reaction
Most implants are made of titanium alloy, and some have traces of nickel. This can cause an allergic reaction in some patients. If you have a tingling or burning feeling in your implant, tell your doctor immediately.
4. Body Rejecting the Foreign Object
Although this condition is rare, your body can still reject the implant, much like it would an organ transplant. This can lead to an implant that becomes loose because it fails to integrate into the jawbone.
5. Smoking
Smoking can increase your risk of implant failure to up to 20%. To ensure your chances of integration, stop smoking for a while before and after the procedure. Why don't you use this chance to kick that destructive habit for good?
6. Bruxism
Bruxism is another word for teeth grinding or clenching. It usually happens while you're sleeping. The increased pressure placed on the implant and surrounding teeth can hurt the recovery process and even lead to implant failure.
7. Poor Oral Hygiene
Even if you take care of the rest of your body, not maintaining proper oral hygiene can hinder your implant integration process. Make sure to take good care of your teeth and gums with regular brushing, flossing, and visits to the dentist.
What Are the Symptoms of a Dental Implant Failure?
Tell your dentist in North Dallas if you experience any of the following symptoms after getting an implant:
Swelling or inflammation of the gums
Severe pain
Loose implant
Gum recession around implant
Although dental implants rarely give patients problems, it's still important to understand the risks of the procedure. If you have any of the conditions listed above, talk to your dentist right away about how you can increase your implant's chances of success.
About the Author
Dr. Dale Greer graduated from Baylor College of Dentistry in 1977. He has been awarded Accredited Member status of the American Academy of Cosmetic Dentistry, a designation that only 306 dentists worldwide have ever received. He has also been voted Texas Super Dentist and Best Dentist in America. To learn more about how Dr. Greer can improve your smile with dental implants, click here or call (972)-233-4546.