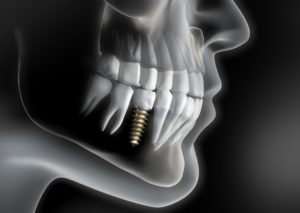 You're missing one or more of your back teeth. There's not much point in replacing them if no one can even see them, right? Wrong. Molars are important when it comes to chewing, as you no doubt know if you've been missing them for a while. But can they even be replaced? Turns out they can, with dental implants. Let's talk about why it's important to replace your back teeth with dental implants in North Dallas.
What Are Dental Implants?
A dental implant is a metal post that is inserted into the jawbone through surgery. Then, over a period of three to six months, the jawbone grows around the implant until it basically becomes a part of your anatomy. After this healing process is complete, your dentist in North Dallas can affix a crown to the top of the implant to make it look and feel just like a natural tooth.
Can Molars Be Replaced with Dental Implants?
The truth is that any kind of tooth can be replaced with a dental implant. The titanium post can replace a tooth no matter where it is in your mouth. The only difference would be in the crown that is placed over the implant. Different crowns would need to be made based on what kind of tooth it's replacing. Therefore, molars can definitely be replaced with dental implants.
Why Is It Important to Replace Missing Teeth?
When you go without teeth for long enough, your jawbone begins to shrink. This is because it no longer receives stimulation from the tooth roots. Dental implants are the only tooth replacement method that replaces the root and not just the crown, or the part of the tooth that you use to chew. Every time you chew with an implant, the jawbone is stimulated, preventing the bone from atrophying and that part of your face from sagging. By replacing your missing teeth with implants, you can keep looking younger for much longer.
Am I a Good Candidate for Dental Implants?
You would make a great candidate to receive dental implants if you:
Are in excellent general and oral health
Don't have any diseases that compromise your immune system
Are a nonsmoker
Don't have poorly controlled diabetes
Have a healthy jawbone
Are free of gum disease
No matter what kind of tooth you're missing, you can still get it replaced with an implant. Talk to your dentist about filling in those gaps in your mouth today.
About the Author
Dr. Dale Greer is a 1977 graduate from Baylor College of Dentistry who has recently achieved Fellowship status with the Academy of General Dentistry. He has also been voted Texas Super Dentist and Best Dentists in America. He is an Accredited Member of the American Academy of Cosmetic Dentistry, an honor that only 306 dentists in the world have achieved. To learn more about how he can replace your teeth with dental implants, visit his website or call (972)-233-4546.