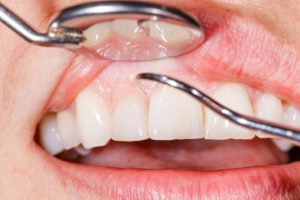 Living with untreated gum disease in North Dallas can eventually lead to losing your teeth. That's why dentists all over the country are taking advantage of National Gum Care Month in September to remind their patients why their gums are just as important to take care of as their pearly whites. Take this time to remind yourself of what gum disease really is – and how you can avoid it!
What Is Gum Disease?
Gum disease is a result of bacteria in your mouth entering and infecting your gums as well as nearby ligaments and bone tissue. It's usually caused by the plaque and tartar that builds up on your teeth and gums; if they're not removed in time, gum disease will begin.
Early on, your gums may become red and swollen. You'll sometimes notice that they're tender and bleed easily whenever you floss. At this point, a dental cleaning and good oral hygiene at home might be able to cure the condition, but delaying treatment for too long can lead to gum disease becoming periodontitis. At this point, the gum tissue will pull away from the teeth, and the bone holding them in place will start to deteriorate. Sooner or later, you could suffer from tooth loss.
How Can You Keep Your Gums Healthy?
While your dentist can use periodontal therapy in North Dallas to treat gum disease, preventing it from happening in the first place should always be your first choice. It's not hard to keep your gums healthy, but it does require daily care and attention. Here are some tips you can follow:
Use a soft-bristled toothbrush and fluoride toothpaste two times a day. Don't forget to brush on and around the gum line. For the best prevention possible, you might consider keeping a toothbrush at work. Also, frayed toothbrushes won't do you much good, so be sure to replace them every three or four months.
Floss at least once a day. If you have trouble with traditional string floss, look into getting interdental brushes or water flossers that might be easier to use.
Avoid dry mouth by sipping water throughout the day or chewing sugarless gum.
Avoid using tobacco products of any kind. Tobacco not only increases your risk of gum disease, but it also makes it harder for gum tissue to heal itself.
If you have diabetes, your gums – and the rest of your body – will be extra vulnerable to infection, so take steps to keep the condition under control.
Eat plenty of healthy foods – apples, milk, certain yogurts and so on – that are good for your teeth and don't contain a lot of sugar.
Don't forget to visit your dentist at least twice a year; they'll remove any plaque and tartar you've missed and can catch the warning signs of gum disease early. Remember, it never pays to take chances with your smile – and that goes for your gums as well as your teeth!
About the Author
Dr. Dale Greer graduated from the Baylor College of Dentistry in 1977 and was voted as "One of the Best Dentists in Dallas" by his peers in D magazine. He regularly writes dental articles and makes it a point to continue his education so that he stays at the forefront of the field. To ask about gum disease or schedule a periodontal appointment, visit his Dallas practice's website or call (972) 233-4546.