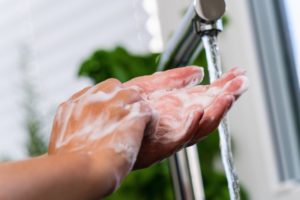 Thanks to their long-standing strict sanitation protocols, dental practices have always been exceptionally clean places. During the COVID-19 pandemic, these ambitious infection control standards have only gotten higher in order to keep patients and staff healthy. If you need urgent dental care after weeks of quarantine, you can feel confident that your dentist's office always has been and will continue to be an impeccably germ-free and safe place to get the care you need. Here are five ways your North Dallas dentist and their team safeguards your health when you come in for treatment.
1.) Excellent Hand Hygiene
Regular handwashing is the best way to prevent the spread of germs like COVID-19. This practice is especially important in a dentist's line of work since there's such a close proximity between their hands and the patient's mouth. They diligently protect themselves, their patients, and their staff from the spread of infectious particles by washing their hands before putting on gloves, before treating each patient, after treating each patient, and right after removing their gloves.
2.) Personal Protective Equipment (PPE)
The coronavirus, like many other viruses, is transferred when infected respiratory droplets come into contact with another person's mouth, nose, or eyes. Personal protective equipment (PPE) is specifically designed to shield these vulnerable areas to keep the wearer safe, as well as preventing the wearer from spreading any germs they may have. You've probably seen your dentist wear PPE like gloves, masks, eye wear, and lab coats during your treatment. Once used, these objects are disposed of or disinfected.
3.) Cough Etiquette & Respiratory Health
Several measures are in place to remind patients and staff alike to practice proper cough etiquette and infection control protocols while in the office. Some of these measures include easily seen and accessible facial tissues, hand sanitizer, and no-touch trash receptacles. You may also notice signs, posters, or pamphlets encouraging readers to cover their nose and mouth while coughing or sneezing.
4.) Sterilized Dental Instruments & Devices
Many dental devices are single use, which eliminates any chance of reinfection. These items come in sterile, sealed packages and are thrown away after coming in contact with a patient. Dental staff are specially trained to disinfect non-disposable instruments with advanced sanitation techniques like high heat, pressure, and powerful sanitizers.
5.) Thoroughly & Regularly Cleaned Office
Before you even enter a dentist's examination room, every surface has been thoroughly cleaned. Hospital-grade disinfectants are used on all the countertops, doorknobs, switches, sinks, and dental lights between each appointment. Many dental chairs will also have a protective covering that is also switched out before a new patient enters the room.
Even before the COVID-19 pandemic, your dentist has been practicing extensive infection control and sanitation protocols. If you need to visit them for urgent dental care during the coronavirus pandemic, you can rest assured that your dentist is taking even more precautions than normal to keep you and your smile healthy.
About the Author
Dr. Dale Greer is proud to care for the happy, healthy smiles of North Dallas with a wide variety of treatments. No matter what is standing between you and your ideal smile, he has the experience, training, and services you need to get your oral health back on track. In light of the COVID-19 pandemic, he encourages all his patients to practice regular handwashing, social distancing, and excellent oral hygiene at-home. If you have any questions about taking care of your smile in quarantine, feel free to contact him via his website or at (972) 233-4546.