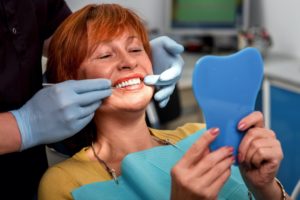 Missing teeth is a more common problem than many might think. According to epidemiological studies, approximately 178 million Americans are missing at least one tooth. There are many different permanent solutions for people who are looking to fill these gaps in their smile. Not only are dental implants in North Dallas a durable solution, but they can provide you with cosmetic benefits that other tooth replacement methods cannot. Continue reading to learn more about how implants can help you maintain your youthful appearance.
Implants Prevent Your Natural Teeth from Moving
When there is a gap in your smile from a missing tooth, your natural teeth that surround the area will eventually begin to fill in that gap. Teeth will become overcrowded and crooked which will make them much more difficult to clean properly. When an implant is put in the place of the missing tooth, it prevents misalignment caused by the other teeth from moving around too much.
Implants Add Structure to Your Face
When the natural tooth root is missing, it eventually causes your jawbone to deteriorate because it is not getting the stimulation it needs to maintain its strength. If your bone is dissolving away, your facial structure rapidly begins to deteriorate as well. This means that your lips can fold in, your lower face can shrivel up, and wrinkles form around the mouth. When this happens, you look much older than you truly are. By replacing your missing teeth, you can look 10-20 years younger and prevent rapid aging.
Tooth Implants Fill in Obvious Gaps
Depending on where the gap in your mouth is, it can be easily seen when you laugh, smile, or talk. This often lowers the self-esteem and confidence. By replacing these obvious spaces between your teeth, you will be able to smile without worrying about gaps showing through.
Dental Implants Improve Your Ability to Speak and Eat
Implants function just like your natural teeth. This means you won't have any trouble eating your favorite foods or speaking. You won't need to worry about them slipping or falling out either. They are secured to your jawbone so you can avoid the embarrassing, unattractive moments you've had in the past.
Tooth Implants Are Customizable
A skilled dentist will know exactly where to place the implant in your mouth for the most natural appearance. The artificial teeth that are attached to the implant are custom-made to be the exact shape, size, and color that you require for a healthy-looking smile.
In addition to all the health benefits of replacing your missing teeth, dental implants can give you a natural-looking smile that will prevent premature aging and make you feel confident again.
About the Author
Dr. Dale W. Greer is a general and cosmetic dentist located in North Dallas. He graduated from the Baylor College of Dentistry. Dr. Greer lectures on the subject of smile design, writes articles, and attends continuing education to stay at the forefront of his profession. Dental implants are one of the many services that he provides to his patients. For more information or to schedule a consultation, visit his website or call (972) 233-4546.