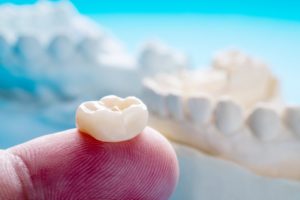 Porcelain crowns are used to protect an affected tooth in order to prevent it from becoming damaged any further. They look similar to the crown of a natural tooth except they have a hollow space on the inside so they can snuggly fit where they need to. Just like any other tooth restoration option, they don't necessarily last forever, especially if they aren't being cared for properly. Continue reading to learn more from your dentist about how long dental crowns in North Dallas last, the benefits of getting one, and what you can do to increase their lifespan.
How Long Do Crowns Last?
On average, you can expect your crown to last anywhere from 5 to 15 years. However, this depends on your lifestyle choices, habits, oral hygiene practices, and the location of your crown in your mouth. Even though daily usage will cause crowns to weaken and wear off over time, unhealthy choices and habits can make this happen much faster. When cared for properly, crowns can last upwards of 25 years as long as the underlying tooth remains healthy.
What Are the Benefits of Dental Crowns?
There are many different reasons why porcelain crowns are great options for damaged teeth. Here are some of the benefits:
The procedure is simple: The process of placing a dental crown is minimally invasive and is complete in just a few weeks.
Crowns help to relieve pain: If your damaged tooth is causing you discomfort or pain, dental crowns can protect your teeth against further painful damage while reducing sensitivity at the same time.
Dental crowns restore the appearance of teeth: Crown also have several cosmetic benefits. Since they fit over an existing tooth, they can instantly correct discoloration, staining, chips, misshapen teeth, and more.
Porcelain crowns are custom made: The lab will custom make a crown that is the exact size, shape, and color needed in order to blend in perfectly with the rest of your smile. No one will even be able to tell that you have one.
How Can a Crown's Life Be Extended?
By taking steps every day to care for your porcelain crown, you can make it last much longer. Here are a few tips that you should be keeping in mind if you have this type of dental restoration:
Maintain a proper oral hygiene routine. This includes brushing at least twice and flossing once daily. By removing food debris and plaque, you are preventing harmful bacteria from causing bad breath, tooth decay, and periodontal disease.
Don't bite or chew on hard objects like fingernails, ice, candy, pencils, pens, or packaging. Doing so can damage both your dental crowns and your natural teeth.
See your dentist every six-months for a regular checkup and cleaning. During these visits, your dentist will take a look at your crowns to ensure that they are still in good shape.
If you are suffering from bruxism (teeth grinding), talk to your dentist about possible solutions. If you are constantly grinding or clenching your teeth, you are putting your porcelain crowns at risk for damage.
By consistently taking these steps to care for your dental crown, you will be able to enjoy all the benefits that come with it for many years to come.
About the Author
Dr. Dale Greer is a highly skilled dentist who has been in the field for over four decades. He earned his dental degree from the Baylor College of Dentistry and is a member of both the Academy of General Dentistry and the American Academy of Cosmetic Dentistry. For more information on dental crowns or to schedule an appointment with Dr. Greer, visit his website or call (972) 233-4546.