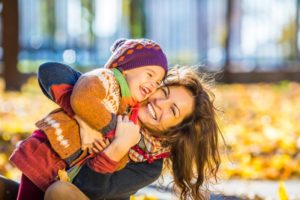 Your Thanksgiving "To-Do" list probably feels never-ending, and whitening your teeth is most likely not on it. Everyone wants to look their best during the holidays, and a bright smile can give you confidence and improve your mood. Your cosmetic dentist in North Dallas can tell you which holiday favorites are the worst stain offenders and how to keep your pearly whites looking their best this season.
The Worst Stain-Causing Holiday Treats
Although some people probably consume a lot of the below foods and drinks regularly, they tend to be enjoyed even more frequently than usual during the holidays. Here's a list of commonly consumed goodies you might want to be mindful of this year when it comes to keeping your teeth white:
Wine – Most people know the dark color of red wine can stain your pearly whites, but what you may not know is that the high acidity levels in white wine can break down the enamel, making teeth more susceptible to staining in general.
Coffee – While this one is likely a no-brainer, you may be having a cup or two extra to get you through the craziness of hosting or preparing a meal, and your teeth will be under heavier stain siege than normal.
Cranberry sauce – This is a holiday staple for many families, but the dark color and high acidity can wreak stain havoc on your pearly whites.
Balsamic vinegar – Your family might like to enjoy some greens on the side, but a lot of salad dressings contain balsamic vinegar. This is another acidic and dark-colored garnish that is not a friend to teeth.
Pie – While pumpkin pie is not a huge offender, many families like to enjoy berry pies as well. These fruits are typically dark in color and high in acid content, which as you now know can damage enamel and stain.
Decorated cookies and desserts – The holiday season is full of fun decorated desserts, and while you don't usually have to worry about acid content, the brightly colored food dyes are prone to staining teeth.
All of these foods and beverages have likely become an integral part of your family's holiday tradition, so can you still enjoy them while keeping your teeth white this Thanksgiving? Keep reading to find out!
Keeping Your Teeth White While Enjoying Your Holiday Favorites
Maintaining your bright and beautiful smile this holiday season while still enjoying all of your favorite treats is possible. Here a few tips to help you do it:
Brush your teeth after consuming the above treats to help rinse off acid and stains.
If possible, rinse your mouth out with water after drinking wine or eating cranberry sauce to help cleanse your enamel.
Try to limit your coffee intake as much as possible to keep your teeth from yellowing.
Opt for a less acidic or lighter colored salad dressing to protect your teeth from stains and decay.
When it comes to decorated desserts, try to limit your consumption and rinse your mouth out with water afterward.
Being mindful of the foods and beverages you're consuming this Thanksgiving and following the tips above will keep your smile looking bright and beautiful throughout the holidays.
About the Practice
Dr. Dale W. Greer treats families of all ages from his North Texas practice. He is passionate about helping his patients achieve whiter smiles. He also values knowledge and making sure that his team is always abreast of the newest technologies in the cosmetic dental industry. Are you ready to find out how to maintain the brightest smile possible this holiday season? Visit us online to request an appointment, or call us at (972) 233-4546.