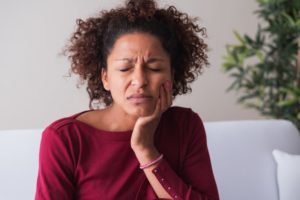 Is your jaw often sore or stiff? Do you sometimes find it difficult to open or close your mouth? These are common symptoms of temporomandibular joints disorder, or TMJ disorder. While this jaw condition can happen to anyone, women account for about 90% of reported cases. Numerous studies show that women between the ages of 18 and 44 are at a much higher risk than others. If you fall into this category, it's important to be extra aware of the risk factors. Read on to find out why women are more at risk of TMJ disorder and what they can do to stay protected.  
Why Are Women at a Higher Risk of TMJ Disorder?
While the research clearly indicates that more women suffer from TMJ disorder than men, experts are still unsure why. Many believe that it could have something to do with the differences in jaw anatomy, physiology, pain perception, and reaction to pain medication between the sexes. Many researchers note that estrogen receptors are found in the jaw, which could play a role. However, more studies need to be conducted on the matter to determine why some people are more prone to jaw problems than others.
What Are the Risk Factors Associated with TMJ Disorder?
Aside from age and sex, there are several other factors that could increase your risk of TMJ disorder, such as:
Injury to the jaw
Prolonged stress
Grinding or clenching your teeth in your sleep (bruxism)
Orthodontic issues like misaligned teeth or uneven jaw
Arthritis and some connective tissue diseases
Regularly chewing on one side of the mouth.
What Should I Do If I Have TMJ Disorder?
First, you need to have your jaw pain evaluated to ensure the cause is TMJ disorder and not some other problem. Your dentist is specially trained to diagnose TMJ disorder and will help you develop a treatment plan if needed. There are a variety of TMJ disorder solutions that your dentist may recommend depending on your unique situation. One of the most popular is bite therapy.
Bite therapy uses a custom-made splint that helps reposition your jaw and better align your bite, which takes stress off your jaw joints. Plastic coverings are also placed over your teeth to shield them from the excessive force that typically comes with TMJ disorder. This noninvasive treatment is easy and comfortable thanks to its custom fit.
The connection between TMJ disorder and women's health is still being investigated. In the meantime, make sure to see your dentist to keep your teeth, jaw, and smile pain-free!
About the Author
Dr. Dale Greer is passionate about helping the smiles of Dallas and the surrounding communities achieve and maintain optimal oral health. He strives to help patients of all ages overcome whatever oral health issues they face, whether that be gum disease, weakened teeth, dental anxiety, or TMJ disorder. He is proud to offer high-quality, custom-made solutions for TMJ disorder to quickly relieve pain and get you back to enjoying a healthy smile. To learn more, he can be contacted via his website or at (972) 233-4546.