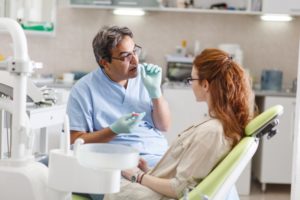 You can find an endless stream of information online. However, this can often create a web of confusion, where mistruths are rapidly spread. Unfortunately, there is an abundance of misinformation circulating about cosmetic dentistry. To set the record straight, a local dentist steps in to dispel 5 cosmetic dentistry myths.
Myth #1 – Cosmetic Dentistry Can Only Address Smile Aesthetics
While cosmetic dental treatments are typically geared toward improving the appearance of a smile, many procedures offer even more. For example, metal-free dental crowns can be used in cases where a tooth is badly stained or discolored, while also serving as an excellent way to restore functionality.
Myth #2 – Metal-Free Crowns Don't Require Maintenance
This is a quite dangerous myth that definitely needs to be debunked. That's because assuming that a dental crown is indestructible can lead to behaviors that invite a host of oral health issues. While it's true that bacteria can't accumulate on a porcelain crown, they can eventually work their way beneath the restoration to infect any remaining tooth structure and the gums. Thus, proper dental care (brushing and flossing twice a day) is of the utmost importance.
Myth #3 – Everyone Will Know You've Had Work Done
If you're considering having cosmetic dental work performed, the last thing you want is for it to be obvious that you've undergone treatment. The good news is that dentists receive intensive training in how to upgrade smiles in a seamless and attractive manner. Therefore, you won't have to worry about any glaring smile discrepancies.
Myth #4 – Cosmetic Dentistry Weakens Teeth
It should be noted that excellent oral health is the primary focus of any dentist. Thus, treatments aren't recommended if they will place the well-being of the patient's teeth and gums in jeopardy. This is one of the reasons a dentist will conduct a thorough examination before clearing you to receive any type of cosmetic dental treatment.
Myth #5 – Store-Bought Whitening Kits are More Effective
At your local drugstore or big-box retailer, you'll find a host of teeth whitening products. Can you rely on them to deliver the results you're looking for? That can be left for debate, but one thing is for sure: the results you'll get from professional teeth whitening are far better than what store-bought options can provide.
Whereas over-the-counter whiteners use generic application trays and lower-strength bleaching agents, the process is completely customized when you receive teeth whitening from a cosmetic dentist. Furthermore, the whitening agents used typically brighten teeth by as much as 8 shades, which is something you just can't get from store-bought options.
If you're like most people, you have a host of questions specific to your smile needs. The best way to get answers is to visit a cosmetic dentist for a consultation. Therefore, you can find out for sure what will work best to upgrade your functionality and aesthetics.
About the Author
Dr. Dale Greer earned his dental degree from Baylor College of Dentistry. For the past four decades, he has provided top-notch dental care in a multitude of treatment areas, including cosmetic dentistry. To stay at the forefront of his profession, Dr. Greer has taken countless hours of continuing education throughout the years, allowing him to create beautiful and functional smiles at his private practice. He can be reached for more information or to schedule a visit through his website.