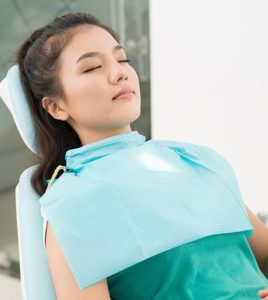 Do your palms sweat when it's time to see your dentist? Maybe you need dental work but fear a painful procedure? No matter the reason for your apprehensions, your dentist can help you sit back and relax with oral conscious sedation. Contrary to what you might believe, you aren't "put to sleep." Instead, the oral medication helps you reach a deep level of relaxation, and you may even doze off. Here are 5 signs you might be a candidate for oral conscious sedation.
1. You have dental fears and anxieties.
If just the thought of visiting your dentist makes you nervous, you're not alone. At least 36% of the population have some degree of dental-related fears and anxieties. You don't need to skip seeing your dentist or feel uneasy during your appointment. Sedation dentistry can calm your nerves, so you'll enjoy your time in the dental chair.
2. Dental work is painful for you.
No one wants to experience any pain while at the dentist, which is why local numbing medications are used to keep you comfortable. Although they are effective, some people are prone to pain during dental work despite the anesthesia. Sedation dentistry can ensure a pain-free visit, so you don't need to put off your procedure any longer.
3. You have a strong gag reflex.
Your gag reflex (pharyngeal reflex) is a contraction that occurs in the back of your throat when the roof of your mouth, tongue, throat, or tonsils is touched by an object. Everyone has this reflex to prevent choking, but some people are more sensitive than others. It can make it almost impossible for your dentist to examine your mouth or perform a treatment. Oral sedation can relax the muscles to create a smoother experience for everyone.
4. You need multiple or lengthy procedures.
It can be difficult keeping your mouth open for several hours for a lengthy treatment or multiple procedures, but oral sedation can make the time fly by. You'll be completely comfortable and relaxed to the point you may even fall asleep. After your cat nap, you'll be ready to go home in what might have seemed like only a matter of a few minutes.
5. You want to remain conscious.
Although oral sedation might make you sleepy, you will not be unconscious. You will remain alert enough to respond to verbal cues from your dentist without feeling any pain or anxiety. You can be awakened quickly with just a gentle touch.
Enjoy Comfortable Dental Care
Your dentist understands every patient's needs are unique. They'll create the personalized plan you need to for stress-free visits.
About Dr. Gale Greer
Dr. Greer earned his dental degree at the Baylor College of Dentistry. He is a member of various dental organizations, including the Academy of General Dentistry and the American Academy of Cosmetic Dentistry. Voted "One of the Best Dentists in Dallas," he offers the safe solutions you need for sedation dentistry. Contact our office today to learn more.