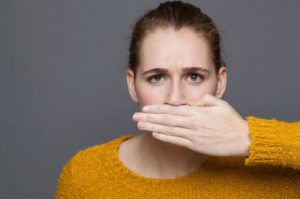 TikTok is one of the most popular social media sites in the world. It reached over 1 billion monthly active users in September 2021. The short clips are a favorite among people of all ages. While you can find popular dances and cooking tips, the site is also full of harmful challenges. Among the latest are videos of people sharing the benefits of dentures to help break the stigma of tooth loss. Here's how the popular viral trend is changing lives on social media.
Busting the Stigma of Tooth Loss
Tooth loss is often attributed with age, but anyone can lose teeth. The stigma surrounding missing teeth and dentures stops many young adults from seeking treatment. They often believe they are too young to replace their teeth. Others choose to deal with the challenges of missing teeth instead of the embarrassment of others finding out they have dentures. The negativity surrounding the topic causes countless people to suffer in silence, but a new TikTok trend is committed to busting stereotypes associated with dentures and young adults.
Among the everyday people to join the trend is TikTok user @princxssglitterhead, who chose same-day dental implants to replace all her natural teeth. She has shared her journey through online diaries that have received over 10 million views. After taking the leap to rebuild her smile, she is now encouraging others to show what they look like with and without their dentures.
People around the world are joining the trend to share their smiles and stories behind their tooth loss. Whether from rapid decay during pregnancy, advanced gum disease, trauma, or another factor, each story is shattering misconceptions to give people the confidence to visit their dentist to rehabilitate their smiles.
Discover the Benefits of Dentures
No matter if you're missing a single tooth, several teeth, or an entire arch, you have more options than ever to restore your smile. Besides traditional bridges and crowns, 500,000 people annually are choosing an alternative solution. Dental implants closely mimic real teeth, so no one will know they aren't natural. Whether you choose a modern approach or prefer to stick with a traditional treatment, a complete smile is an investment in your oral health and quality of life. Overall, you'll benefit from:
Improved your self-esteem
Natural-looking restoration
Improved speech clarity
Maintain a balanced diet
Preserve any remaining natural teeth
Look younger
Durable, high-quality materials
Long-term, cost-effective solutions
It's okay to jump on the latest bandwagon to make a positive difference by sharing your smile's journey. Your dentist will create the beautiful smile you deserve.
About Dr. Dale Greer
Dr. Greer earned his dental degree from the Baylor College of Dentistry in 1977. Throughout his career, he has been awarded Fellowship in the Academy of General Dentistry and voted "One of the Best Dentists in Dallas." Dr. Greer offers the latest solutions to replace lost teeth, including dental implants. If you're ready to have a confident, complete smile, contact our office today to schedule your consultation.