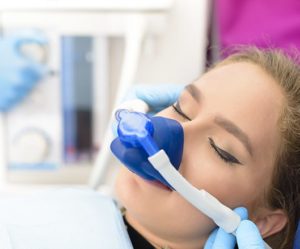 If your palms sweat or your heart races when it's time to visit the dentist, you're not alone. Many people suffer from dental-related anxieties, but you don't have to let them stand in your way of getting the care you need. You may be a candidate for nitrous oxide. Better known as "laughing gas," the inhaled sedative can keep you comfortable. While it's part of sedation dentistry, it won't put you to sleep. Instead, you can lay back and relax without a worry in the world. 
What is Nitrous Oxide?
Nitrous oxide is an inhaled sedative that's mixed with oxygen. It's inhaled through a small mask placed over your nose. This gives your dentist greater control over the amount administered to cater to your safety and comfort. It will take effect quickly, but you won't have to worry about any lingering side effects. It will dissipate within a couple of minutes, so you can even drive yourself home from your appointment.
How Does Nitrous Oxide Work?
As you inhale nitrous oxide, you may feel a little lightheaded. Some patients say their extremities feel heavy or tingly while reaching a high level of relaxation. You may even doze off, but you won't be "put to sleep." You'll remain alert and can be awakened easily to respond to your dentist's instructions or questions.
The calming effect is caused by the air in your lungs being displaced. This causes a reduction in the oxygen reaching your brain. The very minor form of oxygen deprivation may even give you the giggles. As soon as your dentist turns off the nitrous oxide, you'll return to normal quickly, so you can get back to your day.
Nitrous oxide is the safest sedative for patients of all ages, with minimal risk of adverse complications. Some patients may experience some temporary side effects, like:
Mental confusion or grogginess
Nausea
Leg pain or numbness
Headache
Shivering
Excessive sweating
Who Can Nitrous Oxide Help?
Your dentist will review your medical history and any prescribed or OTC medications you're taking to look for any concerns. Generally, nitrous oxide is recommended for patients with unique needs, like:
Mild-to-moderate dental fears or phobias
Difficulty getting numb
Difficulty holding the jaw open
Strong gag reflex
Need an invasive or lengthy procedures
Your dentist will determine if you can benefit from nitrous oxide to get the comprehensive dental care your smile relies on to stay healthy.
Conquer Your Dental Fears Today
You can overcome your fear of the dentist with the help of sedation dentistry. Don't worry if you have any concerns because your dentist will explain everything during your consultation. They'll answer any questions to ensure you're confident and comfortable with the decision you're making for your smile.
About Dr. Dale Greer
Dr. Greer achieved his dental degree at the Baylor College of Dentistry and has completed extensive continuing education in advanced services, like cosmetic, implant, and sedation dentistry. He provides the personalized solutions you need for optimal oral health while catering to your comfort. If you need a little help relaxing in the dental chair, contact our office today to see if nitrous oxide is right for you.