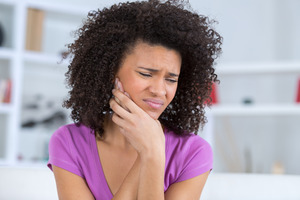 TMJ (temporomandibular joint) disorders can be very painful, and leaving them untreated will only make the situation worse. If you don't want constant discomfort bringing down your quality of life, then you need to know the symptoms that could indicate a problem with your jaw joints. As part of TMJ Awareness Month, your dentist is sharing some of the key warning signs that you may need TMJ treatment soon.
Common Symptoms of TMJ Disorder
There are numerous possible causes of TMJ disorder; in fact, oftentimes there are multiple factors contributing to your pain. As a result, not everyone with TMJ problems will experience the exact same side effects. Nevertheless, there are several symptoms that are commonly associated with an injured or overworked TMJ:
Chronic Jaw Pain: Depending on whether one or both jaw joints are affected, you could experience pain throughout your entire jaw or on one side in particular.
Headaches: The TMJ connects the lower jaw to the rest of the skull. As such, TMJ disorders often result in headaches.
Bite Trouble: Sometimes issues with your TMJ are related to misalignment in your teeth or jaws. You may notice that you have trouble chewing certain foods due to the upper and lower teeth not fitting together properly.
Ringing in Your Ears: The TMJ is located right in front of your ear, so issues with your jaw can often be accompanied by a ringing sound (also known as tinnitus).
Locked Jaw: In extreme cases, a dysfunctional TMJ might prevent your jaw from opening or closing properly.
What to Do If You Think You Have a TMJ Disorder
If you notice any symptoms that make you think that you might be suffering from a TMJ disorder, you should call your dentist right away. They can examine your mouth and jaw to diagnose the problem and narrow down the underlying cause. Then they can suggest an appropriate form of treatment based on your situation.
Oftentimes, dentists treat TMJ disorder with a customized oral splint. This is essentially a plastic covering for your teeth that protects them from the forces of clenching and grinding that often contribute to TMJ problems. Over-the-counter oral splints are available, but since they aren't made with your specific mouth in mind, they often don't fit properly and could lead to further discomfort; custom splints provided by a dental professional tend to be much more effective.
Being aware of the symptoms of TMJ disorder – as well as what options for treatment are available – is key if you want to put a stop to your jaw pain. Be ready to reach out to your dentist as soon as you have any reason to think you might have a TMJ-related issue.
About the Author
Dr. Dale Greer graduated from the Baylor College of Dentistry in 1977. He has served on the Board of Directors of the Dallas County Dental Society, and he was recently awarded the honor of "Fellowship" in the Academy of General Dentistry. At his practice in Dallas, he offers oral splint therapy for patients with TMJ disorders. To schedule a consultation with Dr. Greer, visit his website or call (972) 233-4546.