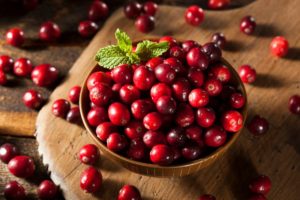 As the holiday celebrations begin, it tends to get busy, and becomes easy to neglect important things. One of those challenges is keeping your smile healthy! Fortunately, in addition to staying on top of a dental routine, there are some traditional foods that can benefit your mouth. Cranberries are one of them!  Read to learn more from your dentist in Dallas about how this tart berry can improve your overall dental health.
Benefits of Eating Cranberries
It is common knowledge that eating fruit is great for your overall health. But cranberries are especially beneficial for your oral health! Here's how they help your smile:
They are packed with antioxidants, which can help protect against gum disease and cavities by reducing inflammation in the mouth.
Cranberries contain proanthocyanidins, a chemical compound (flavonoid) that gives fruit its bright color. The type of flavonoid in this bright berry can help reduce the development of plaque and bacteria that hides in your teeth and gums.
Studies have also found that cranberry juice can help prevent cavities by reducing the growth of Streptococcus mutans, an acid-producing bacterium responsible for causing tooth decay.
Research suggests that cranberries may be beneficial for those with periodontal disease, as they contain compounds like polyphenols which can reduce inflammation in the gums and stop bacterial growth.
Various studies have discovered that consuming cranberry juice or a cranberry-containing beverage can help fight bad breath by reducing levels of sulfur compounds in your saliva.
So, this holiday season, pour yourself some cranberry juice or enjoy some cranberry bread. They are not only delicious but protect your smile!
Tips for Enjoying Cranberries During the Holidays
While it is proven that cranberries help your gums and teeth, there are some factors to be aware of when indulging in treats that contain this holiday berry, such as:
Be mindful of sugar content—Cranberries are naturally bitter so sugar is often added to recipes that include this bright berry, which can increase the risk for tooth decay. Canned cranberry sauce is often artificially sweetened. You can always make homemade sauce, as well as other cranberry treats, to control the amount of sugar.
Protect your teeth free becoming stained— This darkly-pigmented berry has the potential to stain your pearly whites. Rinse your mouth 30 minutes after eating foods containing cranberries to keep them from sticking to and staining your teeth.
If you're looking for a tasty way to improve your dental health during the holiday season, consider enjoying some cranberries. With the potential benefits these tart berries have to offer, your smile will be ready to shine for the upcoming year!
About the Author
Dr. Dale Greer and his team are passionate about helping you achieve your healthiest and most radiant smile! He graduated from the Baylor College of Dentistry and is an active member of the Academy of General Dentistry and the highly acclaimed American Academy of Cosmetic Dentistry. Voted "Best Dentist" by D Magazine for 18 years in a row, he provides a full range of services to keep your oral health in top condition throughout every season! To schedule an appointment, contact him through his website or call (972) 233-4546.