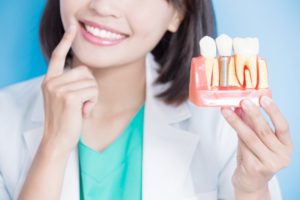 Your decision to have dental implants in North Dallas is a smart and worthwhile investment. Not only will these tooth replacements restore your smile, but they'll also save you money in the long run. Of course, you'll need to make sure you're taking proper care of them, which isn't hard but can result in problems developing if you do not, effectively reducing their lifespan. To prevent an infection from occurring, here are 4 tips you should follow to keep your implants lasting a lifetime.
What is Peri-Implantitis?
Peri-implantitis is an infection that occurs after having dental implants placed. It can spread underneath and around your implant and its titanium post. When swelling and inflammation around the bone and gum appear, you are at an increased risk of developing bone loss, a loosened implant, or ultimately, implant failure.
Tips to Prevent Infection
When infection or peri-implantitis develops near your dental implant, you'll be wondering what course of action you need to take to remedy the problem as soon as possible. Not only can it pose a serious problem to your oral and overall health, but it can cause you to lose your implant, putting you back at the starting line of needing your teeth replaced.
To prevent this from happening, here are 4 tips you should consider:
Follow Doctor's Orders: If you have a weakened or compromised immune system caused by diabetes or another autoimmune disorder, make sure to follow the doctor's orders. You'll need to manage your disease as best as you can if you want to ensure your implants remain infection-free.
Maintain Proper Oral Hygiene – Brushing and flossing are a must, but if you've had gum disease in the past, you'll need to be even more diligent in preventing it from returning. Gum disease that is allowed to progress can result in bone and tooth loss, which will both impact your dental implants.
Keep Your Regular Six-Month Appointments – Your dentist in North Dallas will need to see you twice a year to make sure your implants are in good shape and free of any problems.
Stop Smoking – Not only is this harmful to your overall health, but it can leave stains and discoloration on your natural teeth. It can also be problematic for your implants, as it makes it much harder for you to heal, making osseointegration difficult, if not, impossible.
Ways to Maximize the Lifespan of Your Implants
Apart from the above-mentioned tips to prevent infection, there are other ways you can maintain your implants to keep them looking healthy for decades or longer. Some of these suggestive methods include:
Avoiding hard, crunchy foods, as they can damage your implant. While implants do not require you to take on a special diet, it is important that you try to avoid biting into hard foods. Cut them into smaller, bite-sized pieces for easier consumption.
If you have a removable denture that is supported by dental implants, make sure to clean them daily to prevent harmful bacterial growth.
Don't let the possibility of an infection keep you from replacing your missing teeth with dental implants. This superior method of treatment will have you seeing a beautiful, new smile in no time at all, and by following the suggested tips, your implants will still look great decades from now.
About the Author
Dr. Dale Greer graduated from Baylor College of Dentistry in 1977. With true compassion for helping his patients, Dr. Greer has been voted Texas Super Dentist and one of the Best Dentists in America. In 2001, he became an Accredited Member of the American Academy of Cosmetic Dentistry, becoming one of only 306 dentists in the world to achieve this status and only one of six in Dallas. Offering his patients the best care possible, he provides a wide array of services, including dental implants to replace missing teeth. To learn more, contact us via our website or by calling (972) 233-4546.