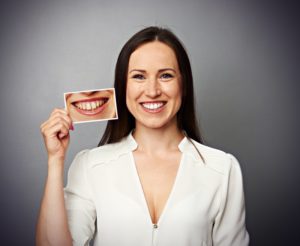 Did you know that some studies report that adults laugh an average of 20 times a day? Unfortunately, you may find it more difficult to fully enjoy these moments if you're embarrassed of your teeth. In fact, studies show that feeling self-conscious about your pearly whites can negatively impact your self-confidence, physical wellbeing, and even your career development. You deserve to have a smile you can't wait to show off! Read on to find out if a smile makeover from your North Dallas cosmetic dentist could be the solution you're looking for!
Signs That a Smile Makeover Is Right for You
Cosmetic dentistry isn't just for celebrities or fixing major dental issues. Thanks to modern dental techniques and materials, anyone can achieve the smile they've always wanted. Signs that a smile makeover could be right for you include:
Hiding your teeth: Do you cover your mouth when you laugh? Do you avoid smiling in pictures? If you are actively trying to hide your smile on a daily basis, it's time to consider a smile makeover.
Multiple cosmetic dental flaws: Whether you have one small imperfection or wish you could completely redesign your smile, there's a cosmetic service that can help. There are a variety of ways your cosmetic dentist can transform damaged, stained, or misshaped teeth.
Good oral health: For your cosmetic treatment to be successful, you need to be in good oral health. Your cosmetic dentist will help you overcome tooth decay, gum disease, or any other oral health issue you may have before enhancing your smile.
Cosmetic Dentistry: Look & Feel Your Best
Repairing the imperfections in your smile does more than just improve your appearance. Many dental flaws can lead to much larger issues over time if left untreated. For example, a cracked tooth may become infected with bacteria, while abnormally shaped teeth that are difficult to clean may be at a higher risk of decay. Cosmetic dentistry can help prevent further damage to your teeth and protect against infection. Additionally, studies show that those who invest in the appearance of their smile are more diligent in their oral hygiene, and therefore at a lower risk of oral health issues.
Ways to Enhance Your Smile
A smile makeover combines several treatments into a personalized plan to reach your ideal smile. There is a wide variety of services that can help you overcome any dental issue. A few popular ones include:
Teeth whitening: Brightening your smile with a quick, affordable, and comfortable teeth whitening treatment is an easy way to achieve dramatic results. A professional in-office treatment or at-home kit is much safer and more effective than any store-bought product.
Dental crowns: To strengthen or reshape a flawed tooth, your dentist may use a dental crown. These beautiful, tooth-shaped caps fit snugly over your tooth to provide a natural, healthy appearance with additional support and strength.
Porcelain veneers: If you wish you could redesign your smile entirely, porcelain veneers may be right for you. These ultra-thin shells of porcelain can be permanently attached to the front of your teeth to completely change its size, shape, and color.
What's standing between you and the smile of your dreams? Your North Dallas cosmetic dentist can help improve your pearly whites with a custom-made smile makeover.
About the Author
Dr. Dale Greer is dedicated to helping the smiles of North Dallas, TX stay happy, healthy, and beautiful for a lifetime. He is an active member of the Academy of General Dentistry and the American Academy of Cosmetic Dentistry. To stay on the cutting edge of cosmetic dental techniques and treatments, he completes countless hours of continuing education, writes articles, and presents lectures on the subject of smile design. If you need a smile makeover, he is one of the leading authorities in the area. Feel free to contact him via his website or at (972) 233-4546.