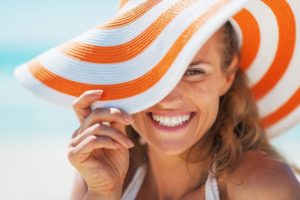 Summer is the best time to get that bright, sunny smile you've always wanted! You can find countless whitening kits, strips, and toothpastes both online and at your local grocery store. On the other hand, you also have a few professional teeth whitening treatments to choose from as well. Read on as your North Dallas cosmetic dentist goes over the pros and cons of each to help you decide which is best for you!
DIY Whitening Products
Store-bought teeth whiteners are a cost-effective way to whiten your smile on your own time. There are a variety of products to choose from depending on your personal preference, including whitening strips, trays, toothpastes, and mouthwashes. As long as it has the American Dental Association Seal of Approval, it has met high standards of safety and efficiency during testing.
However, there are a few risks that come along with DIY whiteners. Some products can cause gum irritation when used incorrectly. Additionally, overusing whitening products can lead to uncomfortably sensitive teeth.
Professional Teeth Whitening
Cosmetic dentistry isn't just for celebrities! A professional teeth whitening treatment from your dentist is an affordable and quick method that yields dramatic results.  First, they will inspect your smile for any signs of tooth decay, gum disease, or other factors that could make any teeth whitening treatment uncomfortable. Then, they can help you pick which one is best for you.
Since your dentist is specially trained to use a whitener that's more powerful than anything you can buy at the store, a professional treatment will be more expensive than buying an over-the-counter product. However, this small investment will go a long way to ensure you are as comfortable as possible and receive dazzling results
The Best Options for a Brighter Smile
Whether you want a brighter smile after a single treatment or would prefer to achieve one from the comfort of your own home, professional teeth whitening in North Dallas has an option for you, including:
In-office whitening: When brightening your smile in-office, a rubber dam is placed to protect your gums. Then, a whitening solution is applied and you'll be able to sit back and relax as it seeps into the enamel to lift deep stains. It's the perfect choice for those who want same-day sparkling results.
At-home whitening: If you have a very busy schedule or simply would prefer to whiten your smile at home, an at-home whitening kit may be better for you. Your dentist will provide a custom-fit tray as well as a powerful whitening gel to ensure you receive professional results. Then, after a few weeks of daily use, your smile will be brighter than ever!
The warm, relaxing summer months are the best time to whiten your teeth. A quick trip to visit your North Dallas cosmetic dentist can help you finally achieve the bright, sunny smile you've always wanted!
About the Author
As an accredited member of the American Academy of Cosmetic Dentistry, Dr. Dale W. Greer is proud to provide North Dallas, TX with the latest ways to beautify their smiles. In 2003 he won two awards for his cosmetic dentistry, and in 2017 was voted "One of the Best Dentists in Dallas" by his peers. He offers both in-office and at-home teeth whitening treatments as well as a variety of other cosmetic dental services. If you'd like to brighten your smile this summer, he can be contacted via his website or at (972) 233-4546.