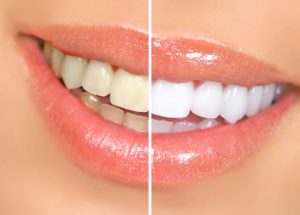 If you have a loved one who seems to already have everything they want, you're not alone. It can be tricky to decide on a holiday gift for these folks. This year, instead of buying them another gadget that will likely end up in a drawer collected dust, why don't you consider giving them the gift that will keep on giving every day of the year – a whiter smile! Your North Dallas Cosmetic dentist shares why giving your loved one the smile of their dreams is the best gift to buy them this holiday season.
Why A Brighter Smile is the Best Holiday Gift
A person's smile is one of the first things that someone notices the first time they meet them. It has also been proven that teeth whitening boosts confidence and enhances the overall quality of life. Here are some specific reasons why you can't go wrong by gifting your loved one with teeth whitening this year:
It Will Always Be in Style
Fashion trends change each year and brands will always come and go, but a beautiful smile will never go out of style. It's the only accessory that is truly appropriate for every occasion and won't clash with any outfit.
There Are No Batteries Needed
If you've ever had to watch the disappointment in someone's eyes when they found they couldn't enjoy the gift you brought them because it didn't come with batteries, you know it's not fun. With a brighter smile, you don't have to worry about any additional accessories, or losing functionality when you need it most!
It's Great for Self-Esteem
A brighter smile has the power to take your loved one's self-esteem to the next level. Whether or not they struggle with stains or noticeable yellowing, a whiter smile can still give them a confidence boost. Plus, scientific studies have shown that the physical act of smiling actually improves one's mood.
They'll Be Reminded of Your Thoughtfulness on a Daily Basis
Every morning when your loved one takes a look in the mirror, they will be reminded of how much they appreciate their confident bright smile. If you want to win gift-giver of the year this season, a brighter smile is sure to land you that trophy.
It Has the Power to Benefit A Career
When self-esteem improves, it instills a greater level of courage to step into new challenges and take on greater responsibility. Help embolden your loved one to advance in their career by giving them the confidence that comes with the gift of a beautiful smile.
Overall health Will Be Improved
If your loved one is proud of their smile, the likelihood of them taking better care of their teeth is higher. With so many ailments such as diabetes, cancer, heart disease, and others being linked to oral health, this is a very important aspect of the benefits of a healthier, whiter smile. Plus, studies have shown that when a person loves their smile, they naturally experience more contentment with life and relationships.
This holiday season, avoid the hustle and bustle of stores and buy your loved one a gift that will improve their health, confidence, and overall quality of life – a whiter smile!
About the Practice
Dr. Dale W. Greer leads the team of experts at his private practice in North Dallas. He loves to give his patients the gift of confidence through brighter smiles. Voted "Best Dentist" by D Magazine, he values continuing education and keeping his practice abreast of all the latest technologies in cosmetic dentistry so that he can continue to provide superior care. Are you ready to give your loved one the gift of a brighter smile this holiday? Visit us online to request an appointment, or call us at (972) 233-4546.