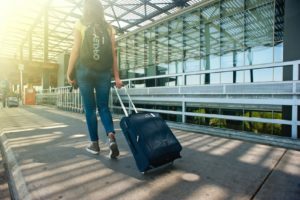 If you're investing in dental implants, you're making a great decision for your oral health and quality of life. You'll enjoy the next best thing to your real teeth using a solution with over a 95% success rate. Your dentist has addressed all your concerns to ensure your new smile will thrive for decades, but there might still be one question on your mind – will dental implants set off metal detectors? There isn't any reason to fret. Here's what you need to know to avoid setting off alarms while you're traveling.
Do Dental Implants Affect Security Screenings?
Whether you're heading to the airport, baseball stadium, or passing through another facility that uses metal detectors, you don't need to worry about the embarrassment of setting off alarms. Most dental implant posts are made of titanium. Not only does the material integrate well with your bone, but it doesn't set off metal detectors.
Security systems, like those used at airports, create an electromagnetic field that triggers an alarm when magnetic metals pass through. As a result, they can detect only metals that are magnetic, like iron, steel, nickel, and chromium. Implants made of titanium or zirconia don't have a magnetic field, so they won't activate metal detectors.
Besides their lack of magnetic abilities, only a small amount of titanium is used for each dental implant. Your bone and gum will also heal around the posts to insulate them. Since dental implants are small and surrounded by your natural tissues, it will make them more difficult to detect. Although a gum wrapper containing a minuscule amount of aluminum can sometimes trigger detectors, it's very unlikely your dental implants will cause the same reaction. Your risk of setting off an alarm will increase if you have an implant denture that contains a milled bar attachment because it contains more metal.
International Security
The Transportation Security Administration (TSA) is part of the U.S. Department of Homeland Security, so their regulations aren't the same worldwide. Other countries have higher technologies that can detect even the smallest amounts of metal; therefore, your dental implants may trigger alarms. Thankfully, if you set off the metal detector, you can easily explain you have dental implants to get through security.
Travel with Peace of Mind
If you're concerned about setting off any metal detectors, you may want to consider zirconia implants. They are completely metal-free, so you won't need to think twice when passing through security systems.
Airport security is stressful enough, but you won't need to stress about your new smile drawing any unwanted attention. If you have any additional questions about dental implants, don't hesitate to contact your dentist.
About Dr. Dale Greer
Dr. Greer earned his dental degree from the Baylor College of Dentistry in 1977. Voted "One of the Best Dentists in Dallas" and a member of various dental organizations, you can feel confident in his qualifications and experience. If you're ready to replace your missing teeth with dental implants, contact our office today to schedule your consultation.