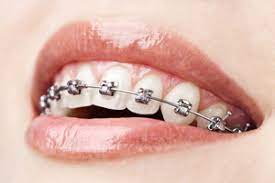 Having a smile that's crooked, gapped, or misaligned can make it difficult for you to feel confident in your pearly whites. Fortunately, there is a range of orthodontic treatments that can get your smile into shape, including traditional metal braces. Though many adults may think that braces are only meant for kids and teenagers, they can benefit people of all ages. Read on to learn about five things that you should know before you get braces for adults.
#1: You Won't Wear Braces Forever
When you get braces for adults, it's important to know that they will require more time to move your jaws and teeth into the right position than if you got them as a child or teenager. This is because unlike the mouths of kids and teens adult mouths are done growing and developing. This makes it more difficult for the teeth of adults to be moved into the desired position. Even so, you won't have to wear braces forever. Adults undergo this orthodontic treatment for 14 to 26 months on average.
#2: Braces Can Be Affordable
Braces are thought of as being wildly expensive, but they may cost less than you think. Consider getting separate orthodontic insurance to pay for treatment. It's also worth noting that some dental insurance plans cover the total cost of your braces. You can also look into CareCredit and other financing options if you don't have insurance so you don't have to pay for treatment all at once.
#3: Traditional Braces May Not Be Your Only Option
Traditional metal braces were once the only viable option to straighten one's smile, but there are several other options available. Clear aligners work in the same way as braces for adults by moving your teeth and jaws over a period of months or years to give you a more uniform smile. Since they are virtually invisible and removable, this may be a better option for those who don't want their orthodontic treatment to be obvious and who don't want to make huge adjustments to their diet.
#4: Braces Will Improve Your Oral Health
When undergoing any type of orthodontic treatment, good oral hygiene is key. Brushing once in the morning and once at night won't cut it. You'll need to brush your teeth as well as floss them after every meal to prevent cavities, which may delay treatment progress. Wearing braces may also lower your risk of oral health issues like chipped teeth and TMJ dysfunction.
#5: You'll Likely Save Money
Though braces for adults may seem expensive upfront, they are worth the investment in the long run. Teeth that are far apart or create odd spaces are difficult to clean and harbor bacteria. This raises your risk of decay and gum disease. Having your smile straightened makes it easier to clean your teeth and keep them looking and functioning their best.
If you think that braces for adults may be a good fit for you, reach out to your orthodontist. They'll be able to help you determine the right path to get your pearly whites on the right track!
About the Practice
Dr. Dale W. Geer leads a team of Dallas dental professionals who treat their DFW patients with services that can help them learn to love their pearly whites. He offers both traditional braces for adults and Invisalign to straighten your smile and give you more confidence in your appearance. Call Dr. Geer's office at (972) 233-4546 or visit his website if you want to learn more about his orthodontic services or to make an appointment.