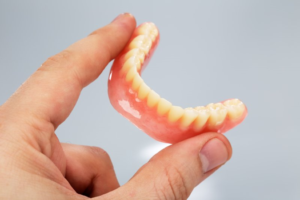 When it comes to replacing teeth, countless patients opt to wear dentures; these tried-and-true prosthetics are accessible, affordable, and thanks to modern dental technology, more comfortable than ever before to wear. They're also notably beautiful and restore a significant amount of oral functionality, making them one of the leading solutions for replacing missing teeth. But unfortunately, dentures, particularly lower dentures, can sometimes refuse to stay in place and cause issues for patients. Here's more from your dentist about why this sometimes happens and some ways you can resolve the issue.
Common Reasons for Dentures Shifting Out of Place
It's usually obvious when your denture is loose, but sometimes, your dentist might notice it during one of your regular checkups. In any case, some common reasons for it occurring include things like:
Changes to the jaw's anatomy – This can occur following tooth loss and can impact your ability to support a lower denture.
Damage to the denture – If the base of the denture or the prosthetic teeth portion sustains damage, the denture can shift out of place.
Poorly designed dentures – These options are made from lesser materials and often don't fit correctly; they generally fail to meet expectations.
Decreased saliva production – Saliva plays an important role in how your dentures rest inside your mouth, so if your production is lowered or compromised, it can cause the denture to not fit as intended.
Keeping Your Lower Denture in Place
The bottom line is that you should trust your dentist to assist you with keeping your lower denture properly situated; after all, they're the one who placed it there in the first place, so they're the most qualified to help. Loose dentures can also cause issues such as pain and impairment when eating or speaking, meaning that you should want the issue to be corrected swiftly. Here are a few possible ways they can resolve the issue:
A denture reline, which involves your dentist readapting the base of your current denture to rest properly against your gumline. This usually only takes a single appointment.
A new denture can be made for your mouth when a reline isn't possible.
In some cases, your dentist might suggest an alternate tooth replacement option like dental implants.
Your dentures are intended to replace your natural teeth in terms of beauty and functionality, so if yours aren't staying in place properly, it's not something you should needlessly endure. A visit to your dentist's office is the best way to have your restoration corrected so that it continues to serve you well!
About the Author
Dr. Dale Greer received his DDS from the Baylor College of Dentistry and has proudly served patients and families in Dallas for several years. His practice is pleased to offer a wide range of restorative services including options like dentures to help you rebuild your compromised smile. If you have any questions about the blog or you'd like to schedule a visit for you or a loved one, feel free to contact the practice today for assistance! Telephone: (972) 233-4546.